Good credit management starts on day one
You have a good credit controller and they do a fantastic job ensuring you get paid on time; but this is only half the story.
If we look at a typical customer from start to finish, we would see the following:

However, often businesses only consider credit management from the moment payment is due focusing on the customer refusing to pay, not able to pay or can't afford to pay. Credit Control begins to apply pressure and internally chase with calls and/or letters.
In the case that credit control is not successful it then moves in to debt collection, we chase with both letters and calls, apply more pressure on your behalf, send harder letters and give more threats.
If that fails – then the final option is legal action. We'll issue a claim form which will lead to judgment and finally enforcement. Send in the heavies – the bailiffs, guys with small ears and no necks.
But, that entire process is almost too late. Yes, it works and yes it has an impact, but it is missing a key trick.
Good credit management starts from day 1 – not from the day the bill is due. Follow my top tips for ensuring your credit management policy is day 1 focused.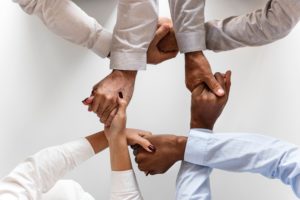 Don't automatically grant credit
Giving credit is like lending someone money, even better than that – You don't even charge interest! Having credit terms should not be automatic because it should be a privilege.
Of course, we have look at our marketplace, consider what the norm is but where we can we should be limiting credit to those we know are going to pay. Which surprisingly not many do!
Look at your customer objectively, consider a credit check or getting trade references. Do you want lend money to this customer? By giving terms that exactly what you are doing.
Make your terms clear
Your terms & conditions ensure you engage with customers on your terms. Be upfront about your terms – they should be on your website, sent with every quote, every booking so the customer is fully informed throughout.
Contrary to popular belief putting them on the back of your invoices makes no difference. It's too late!
We should be drawing attention to our payment requirements – Our customers should be fully aware of our expectations when it comes to payment. What we want and when.
Get our Customers approval
Our customer needs to agree to our contract, our proposal. Whether that be via email, your website or a signature they are all valid forms of approval.
We must have clear indication from our customer that they wish to approve our proposal / quote.
Should the worse happen you might need to demonstrate that your customer not only agreed to buy your product / service but also your terms and that can be demonstrated by making your terms clear throughout.
Capture and maintain good data
Good data capture and management isn't just about the first time we engage with a customer, it's about every time we engage with a customer. Every time we call a customer and every time a customer calls us we should be confirming and gathering information.
One of the most neglected areas in business is taking the opportunity to improve the data we hold about our customers. Whether it's making sure we speak to the right person next time or that we have alternative contact methods should our usual approach fail. Undoubtedly having better data makes our job easier and quicker.
We need to be proactive in our approach. Whether its legal action or debt collection, the better information we hold, the more information we hold the greater the chance of a successful outcome and ultimately getting what you're owed.
Remember that every time you speak with a customer it is an opportunity.
Whilst we all hope we are never going to need to consider legal action or debt collection, should the worst happen you want to be in the best possible position to recover your money and following those very simple steps is a very good way to begin!
 Click here to see what we offer to supplement your credit management team.
Waters & Gate offer both commercial and consumer debt collection. The service is based on a no win, no fee policy.
For free advice on any of the issues raised in this article please call Waters & Gate the credit management and debt recovery specialists, 029 2126 2130.